F.A.Q.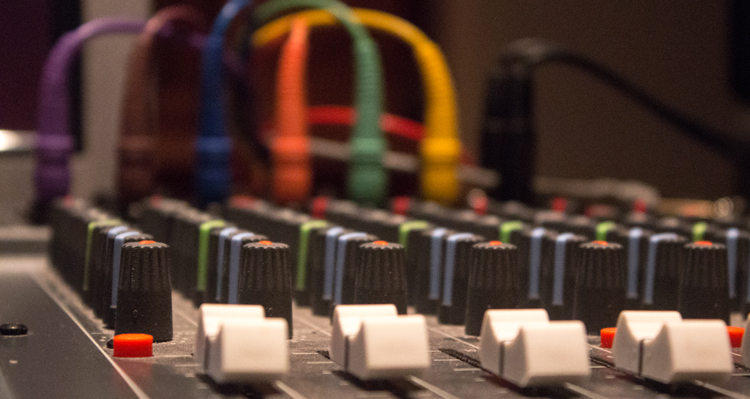 Here at THE SOUND MILL, we work with musicians at every level of experience, from the seasoned professional, to the studio newbie, and everything in between.  You have questions? We have answers.  Here are some of the common ones.  If you don't see your question here, just send us an email and we'll answer it as best we can.
What is your studio rate?

Our services are priced according to the type of work, time of session, and quantity of hours booked. There is typically a discounted rate available for larger projects (40 hours or more).   For more information on rates or to request a quote, give us a call or send us an email by checking out the "contact" page link above.
Do you have a day rate?
No, we work on a hourly rate basis.
Do you work evenings and/or weekends?

Yes.  These session times are typically the most in demand, and thus, will book up more quickly.  Call or email well in advance to book your preferred times.  The studio runs by appointment, and I am usually available 6 days in a given week.
Can we come in early or the night before to set up?
Unfortunately no. Sessions start at the time you schedule them. Much of the engineering work begins as you start setting up, so we do have to charge for this time.
What types of music or instruments can you record?
All of them! Jon has worked in a huge variety of genres: rock, country, celtic, jazz, folk, blues, hip-hop, and everything in between.  Instrumentally, he's recorded horn sections, string quartets, jazz groups, fiddles, banjos, upright basses, pianos, clarinets…as well as all the "normal" stuff.  Bonus points for bringing in an instrument Jon's never recorded before!
How big is the studio? Are there separate rooms for everything?
The Sound Mill sits inside an acoustically isolated attachment on Jon's home (structure formerly known as a "garage") with a total of almost 600 square feet.  There is a control room, live room (which can split into two via glass doors), vocal/isolation booth, and a lobby/hallway.
Can we all play together "live" in the studio?
Yes! The Sound Mill is set up well to record basic tracks live with bands. We can isolate the drums, guitars and bass with our live room, isolation booth and control room if needed.   We have recorded up to a 5-piece band live off the floor, but remember…the more instruments you record at once, the less care and attention that can be given to the sounds of the individual instruments.  We usually prefer to record off the floor with the intention of keeping the drums and bass, and then replacing or overdubbing other parts, to get the best sounds.   It's up to you, though!
Do you have nice instruments available to use? Is there an extra charge?
Jon has a large collection of stringed instruments available upon request, and the studio has a house drum kit, vintage Hammond M3 organ (baby B3), 1925 upright piano, Korg 88-key digital piano/controller, and lots of other various keyboard and percussion toys, as well as a selection of super-realistic virtual instruments: grand pianos, Rhodes, Wurlitzer…all those great sounds, and no pesky maintenance or tuning required!  There is no extra charge to use any of the instruments at the studio unless they require fresh strings.  The exception is the upright piano – tuning fee may apply.
How many hours will it take to record my album?
The straight answer: we don't know!  It all depends on the artist, their preparedness, level of comfort in the studio, proficiency on their instrument, etc, and depends on many variables including style, complexity of instrumentation, and the recording's final use—a guitar and vocal song demo will take a fraction of the time that a densely arranged & textured song will require. We always say "you can build a mansion, or a small bungalow"…like building a house, the bigger you want to build it, the more it will cost.
Some projects move faster than others.  Until we get to know you, we have no concrete way of knowing how much time you'll take until we begin the process. How long are your songs? How many people are in the band? How is the song going to be recorded? Are the songs very overdub intensive? How much time do you have? Is the band well rehearsed? How well are your instruments behaving? Can the singer sing reasonably well?
That said, if you are a well prepared (rehearsed) band,  you could potentially record the beds (basic tracks) for an album in three or four days.  Then, overdubs may take many more days, depending on how many sonic layers you are interested in exploring, how picky you are with takes and sounds, vocal editing, and so on.  On the other hand, if you're a singer-songwriter without a backup band, the process can take much longer, because you will be "creating a virtual band" in the studio, and this takes time.  For mixing, it's a good idea to budget at least three hours per song.
It's always best to discuss your vision for the project with us, and we'll help to provide you with a reasonable "ballpark" estimate of time required…with over 80 albums to our credit, we have the experience to help guide you through the process.  There are no "dumb" questions! The more you know, the happier you will be with the end result. We are here to make recording your music a fun and satisfying experience.
Do you have to be a "professional musician" to record at The Sound Mill?
Absolutely not!  We work with musicians of all backgrounds and skill levels, and projects big and small.  Whatever your level of experience or knowledge, we can help you out.
Can I have a tour of the studio?
If you are a prospective client and would like to see the studio, we can certainly arrange it!  Hop over to the contact page and get in touch by phone or email to set up a mutually agreeable time.  Jon might even whip up a batch of his world-famous coffee for the occasion.
Do you do on-location recording or live albums?
Absolutely!  We've recorded bands, solo artists, and classical ensembles in on-location settings many times.  Please contact us to discuss your live or on-location recording needs.
I am a singer but don't have backup musicians. I need a drummer/bassist/kazoo player/trombonist.  What do I do?
Jon is an ECMA-nominated music producer, and can assemble a team of talented musicians to suit your style and needs, as well as crafting band arrangements of your songs.  With a deep pool of talented collaborators from both PEI and around the world, Jon will make your album sound big league!  Jon can also play a variety of instruments and sings harmony.  He will happily contribute tracks to your recordings if required (extra musician fee applies).
What is a producer?
Generally speaking, a producer is a supervisor and manager for your project. A producer's job varies by the project; his or her duties may include deciding what songs to record, choosing studio musicians, working out song arrangements and instrumentation, deciding on what takes are the best, helping you with your equipment, and much more.  For a band, the producer often acts as an extra band member, offering a critical impartial outside viewpoint.  He or she helps you to take the sound you hear in your head and translate it to tape.   It's our view that the producer is there to help you to be the best version of yourself as an artist, and to shine the spotlight on that which makes you unique.  One chooses a producer based on the quality of their previous work, a familiarity with their strengths, style and personality, and with the supposition that they will help you to achieve the best quality for your project.  A producer doesn't necessarily have to be an engineer, and there are often sessions where a producer and engineer work together. A producer is usually involved in a project before the recording begins, attending rehearsals and/or live shows to help in shaping the material before it's recorded.
What is a co-producer?
A co-producer is typically also the engineer for your project.  That person will be empowered to make creative suggestions and offer feedback to assist you in making the best recording possible. They will help you with some of the things a producer would do, such as choosing the best takes, offering help with arrangements, and so on.  A co-producer usually starts cold with the artist on their first day in the studio together.
What is an engineer?
The engineer is the head of the technical side of your recording.  They set up and operate all the equipment in the recording studio, and it is their job to translate the requests of the producer and/or artist to help them achieve the sounds they want to hear.  They have a knowledge of all the various parts of the recording chain (mics, EQs, compressors, limiters, etc) as well as the instruments being recorded, and how to manipulate these to achieve the desired result.  The engineer works with the producer or artist in the mixing and/or mastering stage to combine all the individual tracks into the finished product.
I would like to surprise a friend or family member with some studio time. Can I buy a gift certificate?
For sure!  Just head to the contact page and call or email for details on gift certificates in any amount.
Is The Sound Mill non-smoking?
Yes, though you may smoke outside the studio at the owner's discretion (and if his children are not nearby).
Are you accepting interns, or hiring engineers or assistants?
No, sorry, The Sound Mill does not take on interns, and is a one-man operation (Jon) unless there is an outside contracted producer on a project.